Sam Adams offers two corporate keynote presentations. The first is titled, 'Seeing Your Success Through My Two I's.' The second is, 'Race To A Finish Line.' Each presentation offers insights to Sam's careers in journalism and entertainment. Both include anecdotes from Sam's career encounters with well-known sports figures and entertainers ranging from Academy Award-winning actor Paul Newman to Super Bowl championship-winning head coach Mike Shanahan.

Sam has more than 30 years of experience as a sports journalist, both in newspaper and television. In 2003, the Colorado Association of Black Journalists named Sam its Print Journalist of the Year award recipient. In 2019 Sam became the first African-American sports journalist ever inducted to the Hall of Fame for the prestigious Denver Press Club, the nation's oldest press club. 

When Sam speaks of reaching higher levels of success it's done so from experience. At age 49 Sam made a full-time career change to standup comedy in 2009. That year he was a prize winner at the 2009 Great American Comedy Festival. The video clips from his 2017 Dry Bar Comedy special have attracted more than 40 million social media views world-wide.

SEEING YOUR SUCCESS THROUGH MY TWO I's
Two I's: Impact. Impression. In this entertaining presentation, Sam utilizes his storytelling skills and career experiences to emphasize the importance of making an 'Impact' and leaving a favorable 'Impression' to realize personal and business success.
The key takeaways from this presentation are:
"Making Preparation A Priority"
"Passion And Productivity"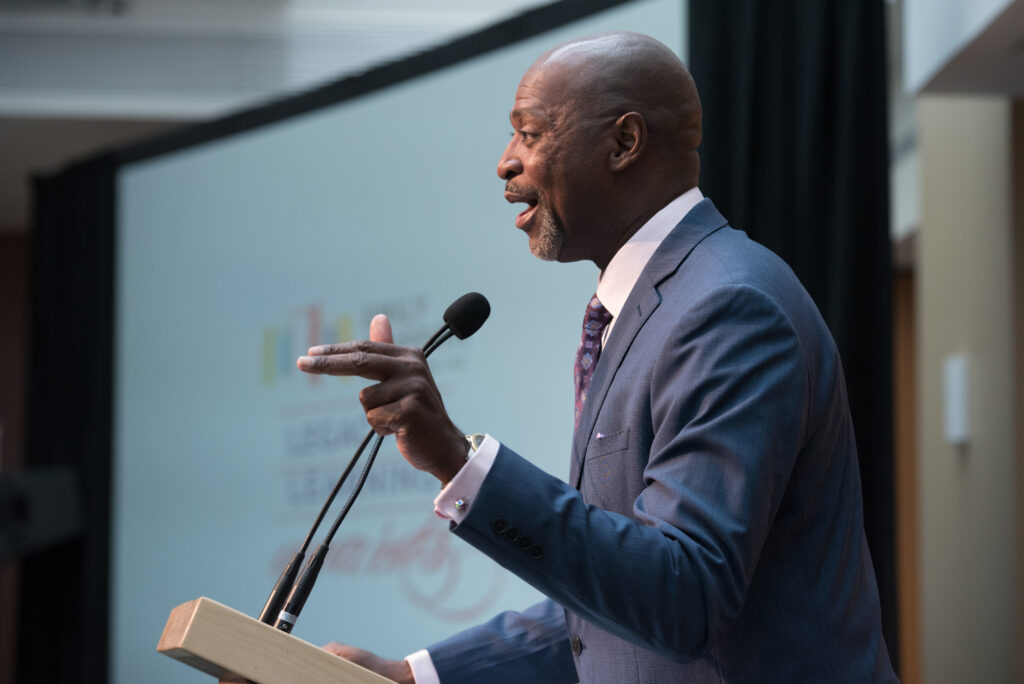 RACE TO A FINISH LINE
This presentation captures Sam's unique perspectives on diversity, and the delicate and volatile topic of race relations. By relating his personal experiences, which range from high school in Cleveland, Ohio to reporting on the Olympic Games in Sydney, Australia, Sam's storytelling inspires audiences to seek common ground, whether talking about or being confronted by racism. This presentation is suitable for all settings.

The key takeaways from this presentation are:

TESTIMONIALS
"FANTASTIC presentation today! Thank you so much, for sharing with our group. We appreciate your words of wisdom and humor gathered from your life experiences and interactions with others." — Emily G., Rocky Mountain Workforce Development Association

"I enjoyed your presentation at the COVA Conference so much! It was the perfect way to end a conference, and a true inspiration." — Hazel H.
"Sam, you not only hit a home run but scored a goal and a touchdown — sort of like a hat trick. Your talk was from the heart. It touched me as human, which we all are. Building relationships from the heart and mind, not our skin – which can't think – is the takeaway I took from your presentation. You are a great storyteller, and in my studies, in order to be a great leader you have to be a great storyteller." — John H.